Events
Here are all upcoming and previous events.
The Nordic Financial Ecosystem Forum 2022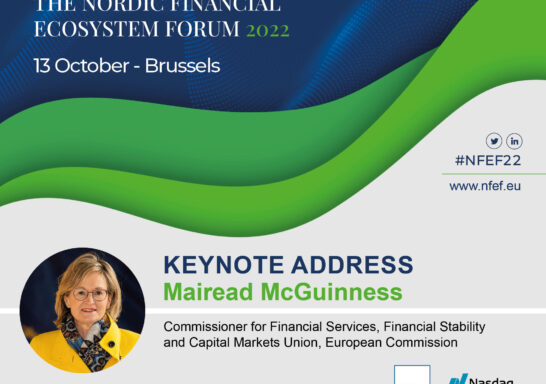 Date 13th October 2022
Venue Stanhope Hotel, Brussels / Webstream on the event website
Agenda
09:00 Welcome coffee and Networking mingle
10:00 Opening remarks by the Chair of the Nordic Securities Association and the President of Nasdaq
10:05 Keynote Speech by Mairead McGuinness, Commissioner for Financial Services, Financial Stability and Capital Markets Union, European Commission. Watch session here.
10:15 Capital markets for corporates – Watch session here.
The Nordics had a large share of all European IPOs in 2020 and 2021, but Europe overall still attracts and retain fewer listings than the US. The question is why? The work on the Capital Markets Union continues and the European Commission is expected to publish a Listing Act initiative covering a multitude of measures in 2022. In this session we will hear from listed SMEs about their experiences with public financing, as well as from other stakeholders and policymakers who will share their views on what measures are needed to improve the capital market financing in Europe.
11:15 Diversity and women in finance– Watch session here.
With more women than ever before in senior positions in important financial institutions such as the ECB, European Commission, ESMA, Nasdaq, banks, and investment firms, we still need to do more to attract and retain women in finance. Taking as a starting point where we are today on the regulatory side and in our industry, this session will discuss what can be done to make a career in financial services more interesting to women.
12:15 Networking lunch
13:30 Capital markets for a young and digital generation – Watch session here.
If the EU is to achieve the ambitious targets set out in the CMU Action Plan, we need to find ways to increase investments by institutional as well as private investors in capital markets. In this session we will discuss what is already being done but what more can be done to increase such investments. This session will place a special focus on young investors and will also discuss the use of technology in financial markets, financial literacy, and the risk of information overload.
14:30 Sustainable Finance – how can securities markets contribute? – Watch session here.
The Sustainable Finance Action Plan is moving ahead in full speed and include environmental as well as social and governance aspects (ESG). Securities markets are keen to contribute. There is hope for progress, but challenges exist. Environmental urgency puts pressure on timelines and a multitude of initiatives within and outside the EU are adding complexity. SFDR, CSRD, CSDD, EU GBS, etc. Are we taking the right steps and in the right order, will we deliver, will more financing be channeled for transition?
15:30 Closing Remarks
15:40 Networking Mingle